Laminate Flooring in Tillsonburg, ON
When it's time for a flooring remodel, you need flooring that elevates your style while standing up to your household's daily lifestyle. Laminate floors are the perfect budget-friendly flooring that delivers both quality and design. At Tillsonburg Flooring Canada, we offer a vast selection of laminate flooring along with professional laminate flooring installations. Visit our Tillsonburg, ON, showroom today to start browsing our laminate selections and discuss your project with our knowledgeable flooring specialists!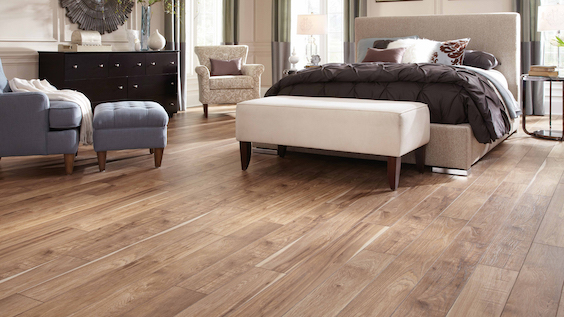 What is Laminate Flooring?
Laminate floors are sturdy, wear-resistant floor that maximizes performance while offering realistic wood and tile designs. This type of floor is composed of four distinct layers that are fused together, but each serves a specific purpose:
The back layer provides stability for the plank and protects against moisture from the subfloor.
The core layer is a wood byproduct polymer core that offers a comfortable, resilient feeling.
The design layer offers a realistic print of wood or natural stone.
The top wear layer protects the entire plank from day-to-day wear and moisture.
What Types of Laminate Flooring Are Available?
At Tillsonburg Flooring America, we carry two main types of laminate flooring products. Each are composed of the same sturdy layers mentioned above but offers unique looks that may better suit your design tastes. Learn more about the types of laminate flooring available at our local flooring store:
Wood Look Laminate Floors
If you love the look of hardwood floors, but can't swing the price or the worry of moisture, laminate is a perfect solution. Our laminate products come in a variety of wood species, tones, grain patterns, plank sizes, and even textures. This way you get the alluring charm of hardwood with all the benefits of affordable laminate. From the bright and spacious look of wide-planked white oak to the charming classic look of pine, we can make any of your design dreams a reality.
Tile or Stone Look Laminate Floors
If you prefer the look of tile or natural stone, we have a variety of laminate realistic laminate options that closely mimic ceramic, porcelain, marble, slate, and other stones. Our customers love these tile looks for their kitchens and bathrooms. Laminate is much warmer underfoot and less expensive than tile, perfect for chilly Tillsonburg winters. Choose from a variety of tile sizes, shapes, colours, and patterns to improve the look of your space.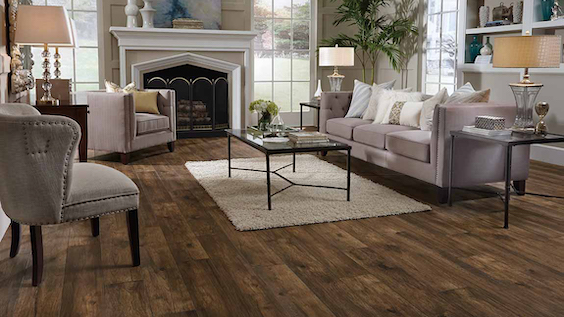 How to Choose the Best Type of Laminate Floors?
Selecting a laminate floor that perfectly complements your interior can be a fun, but sometimes overwhelming task. Our design experts are here to take that stress away. We are up to date on current design trends and know each of our products in and out. We will carefully listen to your design goals, performance needs, and budget to guide you toward your best-fit laminate products. If you already have a clear idea of what you are looking for or don't even know where to start, rest assured we are your partners in success every step of the way.
The Many Advantages of Laminate Flooring
Our Tillsonburg customers love laminate for its perfect balance between form and function. Busy households with kids and pets especially love how resilient laminate flooring is, without sacrificing the beautiful wood or tile looks that enhance any space. We only carry industry-leading brands, so our customers know they are receiving the best quality no matter their selection. Learn about all the advantages of choosing laminate floors for your Tillsonburg property:
Enhances the interior design with gorgeous wood and stone looks.
Water-resistant laminate planks are ideal for high-moisture areas.
Withstands heavy wear, including stains, fading, dents, scratches, and heavy foot traffic.
Quick and easy installations allow you to live on your new floors faster.
Affordable laminate options to meet any budget.
Exceptionally easy to clean and maintain.
Warm and comfortable underfoot, while compatible with heated floors.
Professional Laminate Flooring Installations with our Local Installers
When it comes time for your laminate flooring installation, it's best to leave the job to our local Tillsonburg contractors. We have the necessary tools and experience to properly prepare the subfloor, measure and cut the planks, choose each plank for a professional design, and securely install each plank. This way, you can enjoy your new floors faster and with full confidence they will look beautiful for many years to come.
At Tillsonburg Flooring America, your satisfaction is our number one priority. That's why we back each flooring installation with our Adore Your Floor Guarantee. This promises to replace or fix your laminate floors should you experience any installation-related issues. When you are considering laminate for your flooring renovation, turn to the experts at Tillsonburg Flooring Canada to help you every step of the way. We look forward to meeting you at our local flooring store!
Contact us today to start your laminate flooring renovation! We proudly serve Tillsonburg, ON, and the surrounding communities.